What is the Apps and Data Screen on iPhone and How to Use It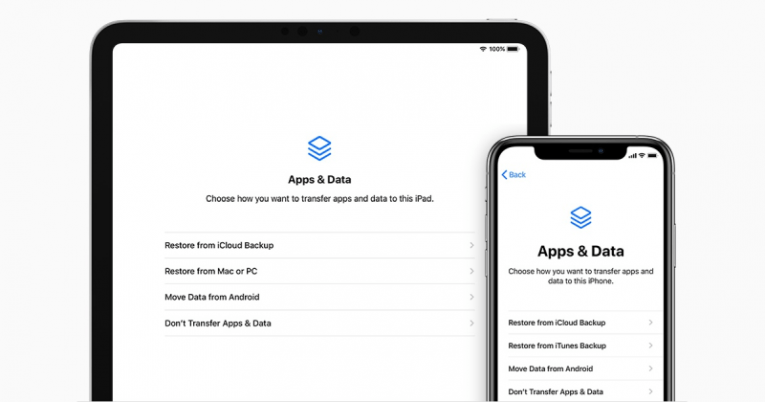 The Apps and Data screen is one of the most important menus on an iPhone that allows users to perform a number of crucial tasks with the device. You can use the Apps and Data screen to transfer ownership of the device, as well as to restore the device using Apple cloud services in the iCloud or migrate a cloud backup to a new device.
Perhaps the most common use you will have for the Apps and Data screen will be to restore the device and wipe it clean. To first get to this screen on a brand-new iPhone, you need to do a bit of preliminary setup first. Once you see the initial boot "Hello" screen, you have selected your device's language and region, set up wi-fi and Face or Touch ID. Once you have gone through those initial steps, you will be brought to the Apps and Data screen. Here you will be able to migrate data over from an Android device, if you need to and used an Android phone before.
Once initial setup is done, you can also access the same Apps and Data screen. To do that, you need to navigate to Settings > General > Reset and choose "Erase All Content and Settings". This will require you to type in your passcode to get to the next screen. Of course, choosing this option will erase everything from your iPhone, so you will need to make sure that you have backed up your phone to the iCloud or iTunes services before you proceed, so as not to lose any important data. If you choose to do this, your device will be wiped to its factory default state and you will need to run through the setup steps described above.
If you want to restore your backed-up device to a new iPhone using the could backup through the Apps and Data screen, follow these steps:
Boot up the iPhone and get past the "Hello" screen.
Follow the initial setup instructions shown on your iPhone screen until you reach the Apps and Data screen.
Select "Restore from iCloud" from the onscreen menu.
Sign in using your Apple ID to access the iCloud service.
Select a backup stored in the cloud. If you have multiple device backups, make sure you pick the correct one, using the timestamps as your guide.
Once the prompt comes up, log in using your Apple ID again, to restore any apps and previous purchases made on the device whose backup you are using.
Stay connected to the Internet and wait for the progress bar to fill completely. In case you lose your wi-fi connection, the download progress will be saved and can be resumed from that point.
Once the bar is filled, your old device should be fully restored and deployed on your new iPhone. Any large files such as numerous music tracks and apps will slowly sync and re-download on your new iPhone over the course of the next few hours or days, depending on their number and size.