The Linux Foundation in Collaboration With Authorities to Battle COVID-19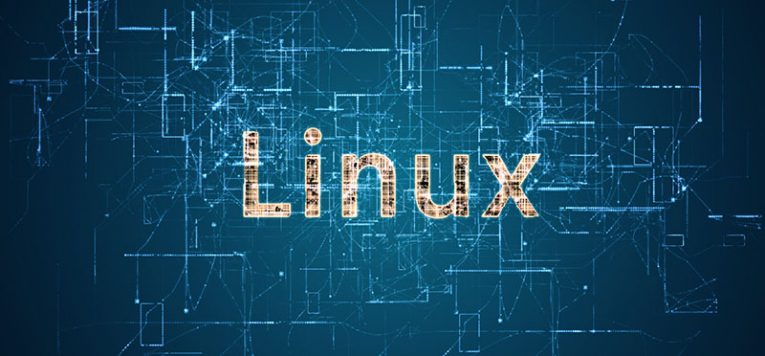 The Linux Foundation launches a COVID-19 project in the hopes it will help authorities to make apps with Apple's API. Apps, which can get used primarily for contact-tracing, but can also get used for Coronavirus updates, maps with hotspots, anything, and everything.
Coronavirus Still Top Concern Worldwide
Coronavirus does not appear to show signs of slowing down. It's prevalent in many countries still, and only a handful have managed to get on top of the virus spreading uncontrollably. New Zealand is the prime example of a job well done.
When people realized COVID-19 was a severe threat to public safety and measures had to get taken, adjustments got made. Many businesses closed offices and worked from home, classes turned to online means, large gatherings got canceled, and public assembly places closed (pools, bars, et cetera).
Unfortunately, when Coronavirus affected lives and routines, cybercriminals took notice. Malvertising campaigns spreading Coronavirus-themed malware became rampant. Crooks exploited the fact that so many people worked from home, which meant that their cybersecurity might have been lacking or not been up to par.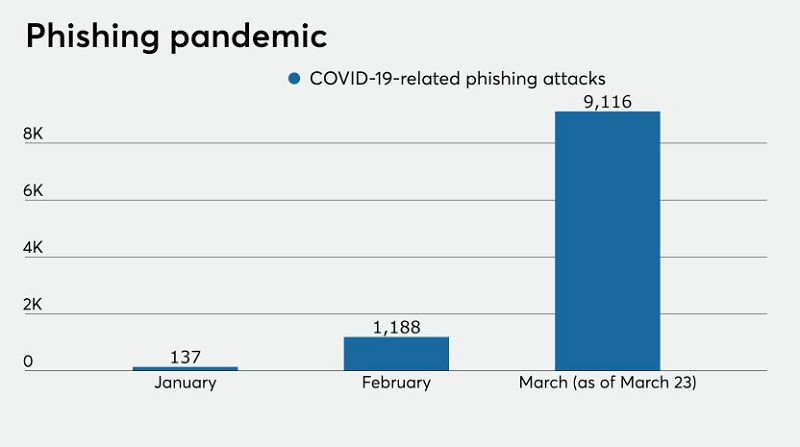 COVID-19 phishing attacks, peaking in March alongside the pandemic.
Hackers started to send out corrupted emails that contained corrupted files. They exploited people's curiosity on the Coronavirus topic and crafted bogus sites whose sole purpose was to spread malware.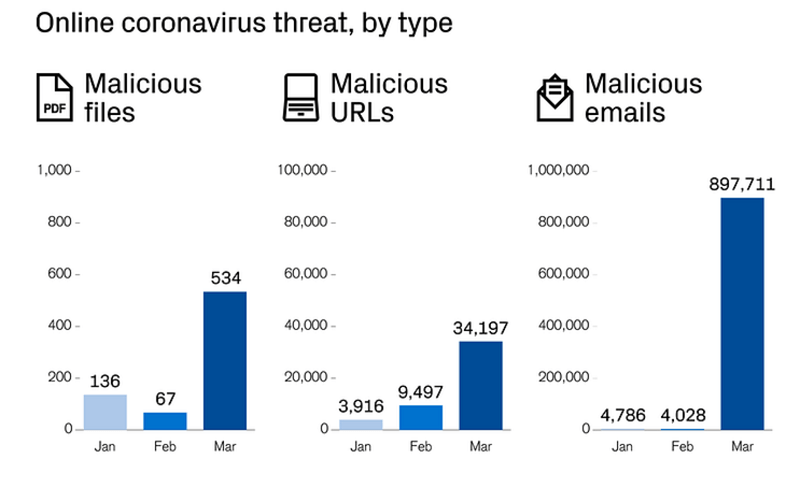 Online Coronavirus threats displayed by type, clearly showing the march peak. Source: Trend Micro
People wanted to know more about COVID-19 either to educate themselves further or to affirm their belief it was 'no big deal.' So, they consumed media coverage and Googled away. Below you can see a chart describing the Coronavirus interest compared between the Clear Web and the Dark Web. The purple line represents the data from Google Trends, and the teal line is the dark web data from Shadow Search.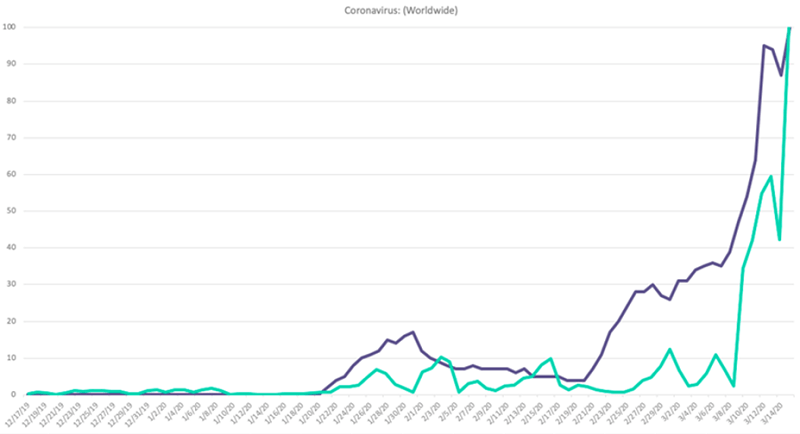 COVID-19 and Coronavirus Interest on the Clear Web vs. Dark Web. Source: securitymagazine.com
An Important Announcement
On July 20, the Linux Foundation announced that it launched a new Linux Foundation Public Health Initiative (LFPH). Its objective is to help public health authorities in their fight against Coronavirus. LFPH uses open source technologies, including both Google and Apple's Exposure Notification API.
The LFPH launches with two exposure notification projects – COVID Shield and COVID Green. It includes seven "premier members," which are:
Cisco
doc.ai
Geometer
IBM
NearForm
Tencent
VMWare
Source: macrumors.com
COVID Green and COVID Shield are applications, which use Apple and Google-designed privacy-focused exposure notification API. The apps follow planning to get rolled out in Ireland, Canada, and some states in the USA.
The LFPH general manager, Dan Kohn, made the following statement:
''To catalyze this open-source development, Linux Foundation Public Health is building a global community of leading technology and consulting companies, public health authorities, epidemiologists and other public health specialists, privacy and security experts, and individual developers. While we're excited to launch with two very important open source projects, we think our convening function to enable collaboration to battle this pandemic may be our biggest impact.''
Source: macrumors.com
COVID Shield and COVID Green
Both of the apps got made available to public health authorities worldwide. They are entirely customizable so that each country can work to create contact-tracing apps to their specifications.
COVID Shield got developed by a volunteer team at Shopify. The app is in the process of getting deployed in Canada.
COVID Green got developed by a team at NearForm. Its development began as part of the Irish Government's response to the Coronavirus pandemic.
Apple assisted in creating these much-needed apps for contact-tracing by releasing its Exposure Notification‌ API in May 2020. The API, which got designed in partnership with Google, has yet to see wide adoption.
Thanks to the API, several countries have launched contact-tracing apps. So far, the list includes:
Denmark
Germany
Ireland
Italy
Latvia
Poland
Saudi Arabia
Switzerland
Source: macrumors.com
In the USA, no contact-tracing app has gotten released as of yet, but several states are working on it. Among those developing such apps using the Apple and Google API, you can find Alabama, North Dakota, and South Carolina.
Contact-tracing efforts are crucial in slowing down the spread of the virus. These apps let people know when they have gotten exposed to a virus-carrier so that the proper measures can get taken. You can quarantine, and warn those you've been in contact with, to self-isolate, as well. In a time of a pandemic, which has claimed a mind-boggling number of victims, this is important.