How to fix Windows Error Code 0x80070002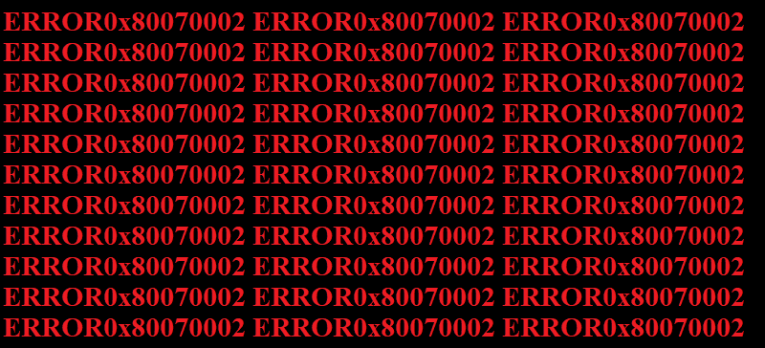 Windows users have experienced quite a few different errors over the years, with this particular one being reported on many occasions lately:
"Windows could not search for new update.
An error occurred while checking for new updates for your computer. Error(s) found: Code 80070002 Windows Update encountered an unknown problem".
Know as Code 0x80070002, notifications of this error start showing when Windows updates start to download but fail as soon as it gets to the screen where it should be installed. The update then uninstalls itself, or reboots your PC and then proceeds to fail and uninstall.
Solutions for Error Code 0x80070002
There are a couple of possible recourses when an Error Code 0x80070002 pops up – and most of them have been reported to fix both Windows Update errors 0x80070002 and 0x80070003. To solve the issue at hand, choose and implement a course of action that seems appropriate to you from the ones below. If that doesn't work, try another one until you fix the issue.
Fix 1 - Try Windows Update Troubleshooter
Go to the Microsoft official website, search for "Troubleshooter" and download it. This tool may be able to automatically diagnose and fix your problems with Windows Update.
Fix 2 - Check Time Settings
Open "Control Panel".
Go to "Date and Time".
Click "Change date and time" and make corrections if necessary.
Make sure that you have configured your time zone before pressing OK.
Go to "Internet Time" tab.
Select "Change Settings".
Choose "Synchronize with an Internet time server".
Choose Time Server from the list presented.
Select "Update Now".
Complete the configuration by pressing OK twice and then and close all open windows.
Fix 3 - Delete Software Distribution Folder to Fix 0x80070002
Go to "This PC" or "My computer".
Go to "C:\Windows" folder.
Search for, and then proceed to delete the folder named "SoftwareDistribution". If you don't feel too confident about deleting it, you may instead rename the folder as "SoftwareDistributionOld".
Restart your PC and go to the Windows Update Store to update your PC.
Fix 4 – Check for and Remove Corrupted System Files
Open Command Prompt as administrator. You may do this by typing CMD in the search bar next to the windows button.
Type in "SFC /scannow" and hit enter.
When the process finishes, go to the "Start" button and select "Control Panel".
Type "Administrative Tools" in the search box and hit "Enter".
On the window that pops up, select "Service".
Click the tab "Name".
Right-click "Windows Update" and select "Stop".
Fix 5 - Configure Windows Update Related Services Status
Open Command Prompt as administrator. You may do this by typing CMD in the search bar next to the windows button.
Input the following commands in command prompt - "SC config wuauserv start= manual", "SC config bits start= delayed-auto", "SC config cryptsvc start= auto", "SC config trustedinstaller start= auto".
Re-boot your PC.