How to Manage Your Passwords Offline with Cyclonis Password Manager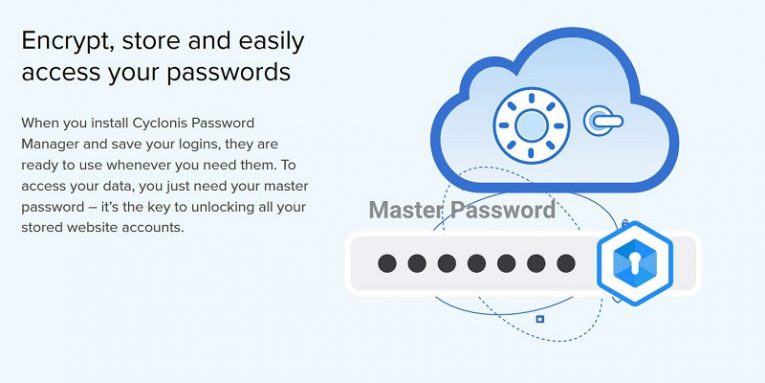 One of the biggest advantages of having a password manager is it can help you save time by logging you automatically into your social media profiles and other accounts. Consequently, many users might imagine it more as an online tool. However, did you know you can manage your login credentials offline as well? Many of Cyclonis Password Manager's features can be used without an Internet connection. Even if you have no access to the Internet, you can still perform main tasks with your passwords or other stored information. If you ever wondered if the lack of an Internet connection could stop you from using Cyclonis, we invite you to read further.
What is the main difference between using an online and offline password manager?
As we explained earlier, Cyclonis works both online and offline, so the main difference is some of the features will be limited while working offline. Most of the online features are available with the password manager's browser extension that naturally stops working without an Internet connection. The extension allows you to auto-fill fields when logging into your accounts or provide sensitive data such as your credit card details when shopping online. Also, the extension suggests saving new login credentials or updating the already existing ones if you change your passwords. Without these features, you would have to type all this information yourself. Another difference is when using your password manager offline, you will be unable to access its online manual that redirects to the software's website that offers information about Cyclonis features.
What features can you access while using your password manager offline?
Probably, all of us have experienced troubles with Internet connectivity and know it is sometimes impossible to predict when it might get disrupted. In such times it might be useful to know you can still work with your Cyclonis Password Manager. Some of the tools that make your browsing easier might be disabled, but if you need basic tasks to be done and you do not mind doing the work you should have a look at the offline password manager's features we list below.
View passwords or other stored data
If you need to remember some of the passwords or other data you could be storing on Cyclonis (e.g., using Private Notes), you can do so even if the computer is not connected to the Internet. Of course, if you enabled the option to require the master password before showing such information, you will have to enter it to be able to view it.
Use the Password Generator tool
Perhaps you have no Internet connection on your PC, but can browse while using mobile data? In such a case, you can replace old passwords or create new ones for your accounts with the Cyclonis Password Generator. All you have to do is go to Tools and choose the needed feature. It may not be as convenient as you would be unable to take advantage of the Generate & Copy button, but if you only need a strong passcode, the tool can help you with that. It not only allows creating random passwords from chosen characters or length but also lets you check the combination's complexity.
Add new passwords or other sensitive information
You do not have to be online to add new passcodes or payment methods to your encrypted vault. All you need to do is go to the application's Password Manager tab, choose Websites, and click the New Website button that has a blue plus sign. If you want to save other sensitive data such as your ID card or credit card details, you should go to the Wallet tab instead and choose from Payment Methods, Identification, Profiles, and Private Notes. Keep in mind, when adding new passwords offline you will have to add all of the needed information like the websites URL address, login name, and passcode yourself. Even if there is no Internet connection the changes you make should be synced later on when you have access again as Cyclonis syncs information not only the moment you add or modify information, but also periodically.
Edit already saved passwords and other stored information
You can change saved login credentials, private notes, and other sensitive information while being offline, although you should be cautious when doing so. For example, if you alter any login information before changing on the website first, you might be unable to login to it while using your password manager later on. That is because the old login credentials would disappear, so if you plan on changing any passwords on Cyclonis first, make sure you memorize the old login information so you could change it on the website when you have Internet connection.
Delete the information you no longer need
If you decide you no longer need some of the passwords, profiles, personal notes, or other information you could be storing on Cyclonis Password Manager, you can easily remove it even if you are offline. If the information you wish to remove is password protected you will have to enter your Master Password; otherwise, you will be unable to erase it. At this point, we should remind you all of the data stored on the password manager can be password protected by clicking the lock icon located next to the Delete button.
Edit the password manager's settings
Lastly, you can always go to the application's Settings tab and change your preferences. Again, it is essential to know options in the Advanced column can be edited only after providing the master password. The requirement is set for safety purposes since advanced settings allow selecting whether the user should provide his master password when viewing or editing passwords, credit card information, other payment methods, and identification details. Thus, in order to protect such data from people with malicious intentions, the software does not allow removing safety measures without providing the correct password.
All things considered, there is no doubt the online features offered by a password manager application is the reason why many of us use it. Saving time and logging into your accounts without having to type passwords yourself and worry whether you remember them is what makes it irreplaceable. It's also a relief to know you can still manage your passwords offline if your computer suddenly becomes unable to connect to the Internet.