Importing/Exporting Data
Cyclonis Password Manager offers several ways to import and export data. You may backup and/or restore the data in your encrypted vault as a single encrypted file via the Export Encrypted Vault and Import Encrypted Vault features. This functionality can be useful if you choose to run Cyclonis Password Manager on multiple devices but opt to use the Local Storage option to store your vault.
You may also import and export your website account information (usernames and passwords) in plain text CSV files. This functionality can be useful if you would like to migrate your website account information between different programs.
For your convenience, Cyclonis Password Manager also offers the ability to import data from various other password manager applications. You can find these options listed under the File menu > Import/Export.
How to Import and Export Your Encrypted Vault
You may use the Export Encrypted Vault feature in Cyclonis Password Manager. This feature is designed to export all data in your Cyclonis Password Manager vault into a single encrypted file. Exported data includes your stored website login information and passwords, profile information, Private Notes, ID details, and other data you may have stored in your vault. Keep in mind that you will need your master password to decrypt the exported vault file. To restore or access the vault file, you may install Cyclonis Password Manager on a device and import the vault using the Import Encrypted Vault feature. Again, you will need your master password to access the vault.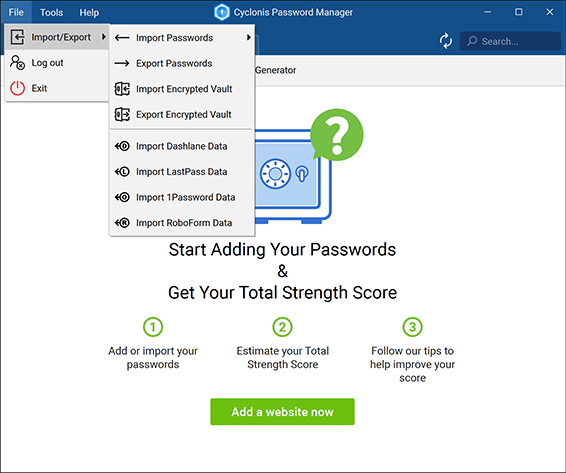 Subcategories:
Importing and Exporting Data via CSV files
Importing and Exporting Encrypted Cyclonis Password Manager Vaults