How to fix the "File is too Large for the Destination File System" Error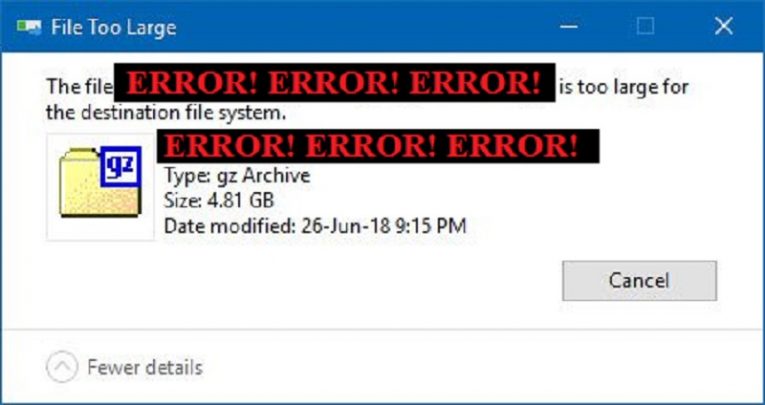 Backups and storage are something that not only IT experts are concerned with nowadays. Regular PC users also routinely find themselves in need of storage space – which is precisely why there are so many methods of storing data. Cloud storage is all the rage nowadays – but while cloud services offer accessibility and security, said services simply are not fit to accommodate everyone's needs. Sometimes the best solution for a user is to just plug an external hard drive or a USB stick drive and use that for their storage needs.
Users that have done so may well have found themselves on the receiving end of this particular error message:
"The file [file name] is too large for the destination file system.
This message seems to pop up occasionally, even when it doesn't make sense – for instance, when you have 8 GB free on your USB drive and want to transfer a file that's just 5 GB to said drive.
The reason for that somewhat confusing state of affairs is simple. Contrary to the message pestering the user, this particular error is not actually in any way connected to the free storage space available on the user's external device. It is actually related to the formatting of the external device in question – if it is formatted in FAT32 format, the file size it can take is limited to 4GB – so any transfer attempt of a file larger than that will fail and subsequently display the error message. While FAT32 is certainly better than FAT16 in this regard – the latter only allowed for files as large as 2GB – it is still sub-optimal and can be quite annoying.
The fix for this particular issue, which makes your external storage usable for files larger than 4GB, is rather simple, really.
How to fix "The file [file name] is too large for the destination file system." Error
Open command prompt.
Input the following command "convert [your device here]: /fs:ntfs", substituting [your device here] with the associated letter of the device you wish to fix. Press "Enter" to finish the job.