Remove SanwaiWARE Ransomware
SanwaiWARE Ransomware is a malicious program, which serves the purpose of encrypting files on computers. After it does this, users will not be able to view the specific file's contents. This encryption can be applied to just about any type of file. However, ransomware threats tend to go after potentially important data – pictures, videos, other media, documents, databases, backups, etc. Often, these threats use a unique suffix to mark the names of the files they lock. The SanwaiWARE Ransomware is not any different, but it uses two separate extensions for this –'.sanwai15' and 'sanwai16.' It is not clear how the file-locker determines which suffix to use.
Sanwaiware Ransomware Authors Demand $150 from Victims
After executing its attack fully, the SanwaiWARE Ransomware will create the ransom notes 'IMPORTANT.html' and 'IMPORTANT.txt.' Both of them have identical contents. They urge the victim to purchase a decryptor by paying a ransom fee of 0.002664 Bitcoin, or about $150. However, it is entirely possible that some victims might be asked to pay a significantly larger sum.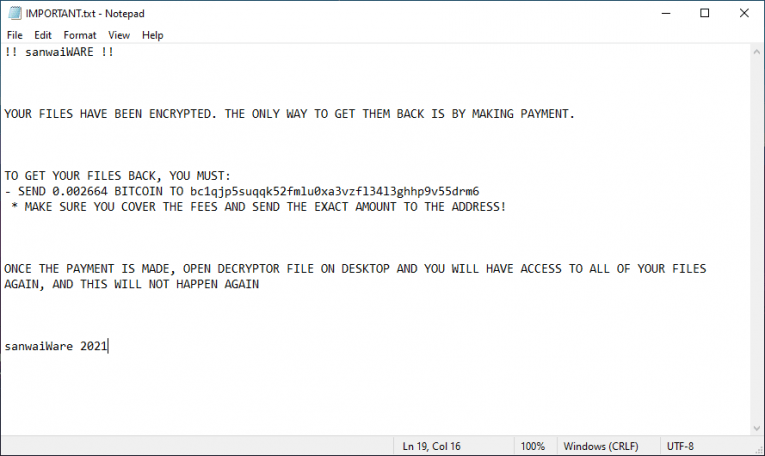 It is important to add that SanwaiWARE Ransomware's creators do not have any contact form or details. This means that it is impossible for the victim to reach out to them and ask questions. In fact, the only piece of information in their message is the Bitcoin address they want to receive payments to. It seems like these are the perfect conditions to scam users out of their money if they decide to pay. Naturally, we would not advise you to send any money to SanwaiWARE Ransomware's creators since it would be too easy for them to steal the money.
In the case of a ransomware attack, it is usually best to run an anti-malware tool to help you eliminate the malicious software. Once you do this, you can start experimenting with different data recovery tools and options. Naturally, the best way to undo the damage of the SanwaiWARE Ransomware is to restore your files from a backup.