Remove Drik Ransomware
Drik Ransomware is a file-locker that belongs to the family of the Phobos Ransomware. Unfortunately, neither of these threats are compatible with free decryption software. Their victims will be unable to restore access to their files unless they have a backup copy from which to recover their data. Unfortunately, the criminals behind the Drik Ransomware may not just limit access to the victim's files – they might also try to scam them. The criminals promise to provide a decryptor to all victims who agree to pay an unspecified ransom fee. Often, ransomware operators ask for at least a few hundred dollars, and this is also likely to be the case with this one.
How is the Drik Ransomware Spread?
Ransomware propagation channels tend to be very flexible. The criminals behind the Drik Ransomware campaign are likely to be exploring multiple delivery mechanism to enhance their reach. Email spam is undoubtedly one of the most popular ways to deliver malware to selected targets. And if the criminals are looking to infect as many users as possible, they may opt to lace software activators, game cracks, media, and pirated content with the Drik Ransomware payload.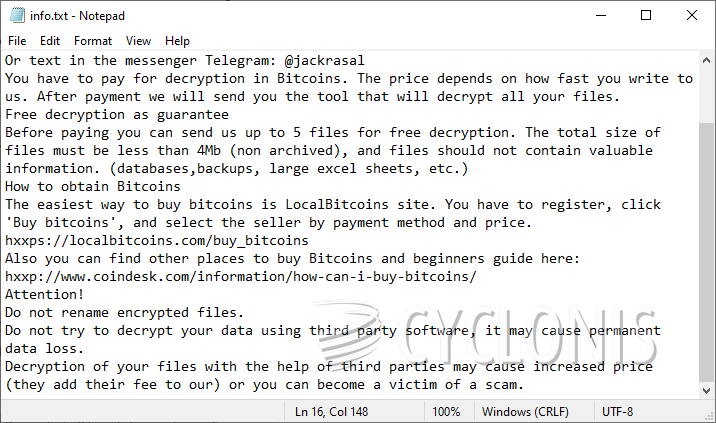 Now that you know how the Drik Ransomware spreads, you can take the appropriate measures to protect your data. Use an up-to-date antivirus tool, stay away from pirated content, and do not trust all incoming emails.
Properties of the Drik Ransomware Attack
When this file-locker takes over a computer, it will encrypt the majority of the victim's files. Then, it appends a unique suffix to the names of all files – '.[d[<VICTIM ID>].[jackrasal@privatemail.com].Drik.' Victims will also find the ransom messages 'info.hta' and 'info.txt' on their desktop.
These files say that victims can message the attackers via the email jackrasal@privatemail.com, or the Telegram ID @jackrasal. We advise you not to do this since the criminals will not agree to help you unless you pay. Paying them is not recommended since it would be easy for them to steal your money without fulfilling their part of the deal.
Victims of the Drik Ransomware should eliminate the threat by running an antivirus tool. Then, explore popular data recovery tools and options.