How to Find out If Your Netflix Username and Password is Safe?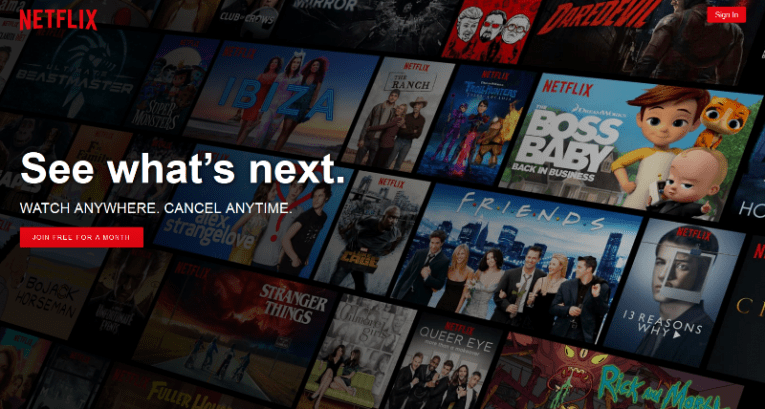 Close your eyes and try to imagine your life without Netflix. No movie nights, no latest TV series, no nothing... and you are back to downloading torrents or watching soap operas your local television channel has to offer. A depressing thought, right? 125 million Netflix subscribers worldwide would nod their heads in agreement – watching Netflix has become more than a way to spend free time for them. Specialists agree that streaming services are changing the entire entertainment industry. People no longer buy DVDs or go to the cinema that often. Instead, they opt for watching films directly from their couches. Consequently, the total number of Netflix users should not go into decline anytime soon. Cyber criminals are well aware of the popularity of this media service too. In light of recent events, we assume it is safe to say that Netflix subscribers have become their new target.
Security researchers monitor sites on Dark Web for leaked and stolen data periodically. Their recent discovery has surprised even the most experienced specialists – a file of 41-gigabyte size containing username and password combinations has been detected. These personal details are not encrypted in any way, meaning that anyone can access them and then try to hack people's accounts. It should be emphasized that usernames and passwords found inside the discovered file have been collected from several different sources, including Zoosk, YouPorn, Last.FM, LinkedIn, MySpace, and Netflix. It would be best to change your password if you play Minecraft or Runescape (popular games) too. Speaking about Netflix users, more than 10, 000 accounts could have been compromised, according to media reports. It is not known whether it is the most recent data, but it is still worth checking if your Netflix username and password are safe.
How do I tell if my Netflix account has been hacked?
You can check whether your Netflix account has been compromised at ';--have i been pwned? with a few simple clicks. You will only need to provide an email address associated with the account. If it turns out that your credentials are not available on the database, it means your Netflix username and password are safe.
New shows added to your "Continue Watching" queue on Netflix might suggest that your friends or family have borrowed your credentials and spent the glorious Friday night on a couch, but if you are 100% sure you use your Netflix account alone, there is a chance that your account has been hacked. It is more common than you think.
If you no longer see your name among other Netflix profiles and/or new unknown profiles have been created without your knowledge, there is a huge possibility that your username and password is known to cyber criminals. Before you freak out, ask your family if it is not something they have done intentionally.
Never ignore the fact that the default language of your account interface has been changed! Hackers could have already sold your Netflix credentials on Dark Web.
Oh no, what do I do?
If it has turned out that your Netflix username and password are not safe anymore and your account has been compromised, there are two things we expect you to do immediately to avoid further problems:
Access the My Account page and select Sign out of all devices. This will log your account of all devices you have ever been logged into.
Change your password. Make sure you set a unique strong password for your account. Keep in mind that adding a number, e.g. password1 to your old password will not make it more secure.
How do I reset my Netflix account password?
Go to https://www.netflix.com and click Sign in in the top-right corner.
Click Forgot your email or password?
Choose a password reset method.
Follow instructions to reset your password.
Tip: If you are not allowed to reset your password, contact Netflix customer support ASAP. The sooner you do this, the higher the possibility to get the hacked account back.
How can I prevent my Netflix account from being compromised?
We have said it before and we are going to say it again: cybersecurity is vital. Passwords are a huge part of that. Since they are considered the major defense against hackers, you will seriously compromise the security of your account by sharing its credentials with someone else. Passwords are for your eyes only. Keeping passwords safe is what all users should do without question, but it is also equally important to set a strong password for the account. According to a study, one in six people still use their addresses, pet names, children names, and birthdays for their passwords thus leaving the door wide open to cyber criminals. Such password patterns like qwerty, password1 or 123456789 are typical examples of bad passwords too since they can be deciphered easily. Unfortunately, they still seem to be among the most popular ones.
So what is a safe password? Specialists say that it must consist of a combination of uppercase/lowercase letters, numbers, and symbols. Speaking about the password length, it cannot be shorter than 12 characters. Finally, it should not contain any personal information and common words. Hackers could not do much with your Netflix username alone, but if they get your password, it is only a question of time when your account will be hacked, so keep your password safe (writing it on a sheet of paper is not what we have in mind when we say "safe") and make sure it is secure. Users do not need to invent strong passwords themselves anymore. Cyclonis Password Manager allows generating uncrackable passwords of up to 32 characters automatically. We have to admit that secure passwords are not so easy to remember, but it is not a problem for those using the password manager. If it is Cyclonis, it will not only keep your Netflix username and password safe, but it will also enable you to log into your account with the single mouse click. In other words, it will remember your account password and login for you and enter them automatically into a login form.
There is one more problem with passwords. People do not change them periodically. 21% of all Internet users use passwords that are older than 10 years, which means that they were created at the time Brad Pitt and Jennifer Aniston were still together… For maximum security, passwords have to be changed regularly, and this does not apply to Netflix only. Your account might still get hacked no matter that you use a safe password and change it on a regular basis if you use it for several different accounts. It is still quite common practice. Research has revealed that only 27% of all online accounts are protected by unique passwords.
It is not the first time Netflix accounts get compromised. Hackers were spotted selling stolen Netflix accounts they illegally gained access to some time ago at a low price. They use special automated tools to crack weak passwords. Additionally, they distribute fabricated emails that look like they are from Netflix to extract passwords from users. These emails have links that open fake password reset forms. Once the gullible user enters the username and password, they immediately end up in hackers' hands and the account gets hacked. Keep your Netflix username and password safe – use the password manager to log into your account.