What to Do If You Forgot Your AT&T User ID Password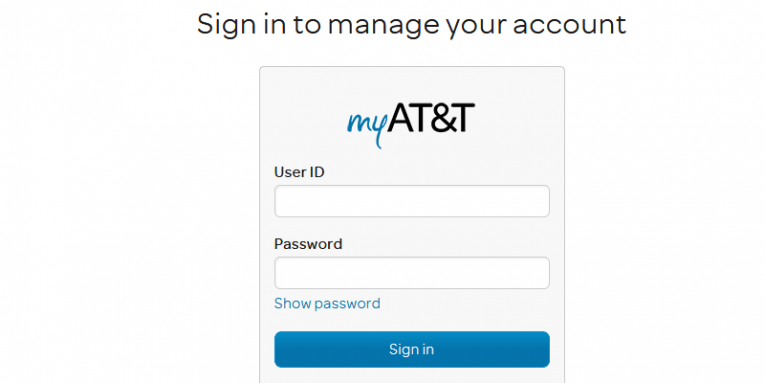 People no longer imagine their daily lives without the Internet, a mobile phone, and television. We bet you check your phone, read news online, or turn your TV on the first thing after you open your eyes in the morning as well. According to a report released in 2017, people spend an average of 170 minutes watching TV every day and an average of 140 minutes surfing the Internet. It is believed that the difference between these two mediums will narrow to 7 minutes by the end of 2018. People are not afraid to confirm that they can't live without the Internet. As infographic presented by Forbes shows, India has 82% of people who would not agree to live without the Internet – it is at the top of the list. Three countries that go below it are as follows: United Kingdom (78%), China (77%), and Germany (73%). As for the United States, it has lined up right after Germany with the same 73%, so there is nothing surprising that AT&T, which is considered one of the world's largest telecommunications and entertainment services companies, is based in the U.S.
You must have been living under a rock all these years if you live in the U.S but have never heard of AT&T. The company is no doubt a market leader these days. It is not only one of the biggest telecommunications companies in the world, but also the second largest mobile services and fixed telephone services provider in the United States. The official Q1 2018 statistics published by AT&T on its official website adds credibility to this statement – 99% of Americans are covered by AT&T. The company offers its services in Mexico and Latin America as well. Also, it works with business and telecommunication services providers worldwide. Naturally, the company's customer support specialists get thousands of inquiries from users. You do not need to contact customer support whenever the smallest problem occurs, especially when we talk about the AT&T password problem because you can fix it yourself.
Forgetting passwords is not that big of a deal – learn how to reset AT&T password!
As in the case with any other password, an AT&T password can be forgotten, lost, or stolen by hackers. Not all the users accept the bad news calmly. According to the survey conducted by Centrify, a third of people throw a temper tantrum once they find out that their passwords do not work and they cannot log into their accounts. Do not freak out if you cannot simply recall your AT&T password or it has been changed behind your back because there is a way to reset it. Do not waste your time waiting in a queue to speak with a customer support specialist because they do not know your AT&T password and thus there is no way they can provide it for you. They will only help you to reset it, which you can, surely, do yourself with minimal guidance. It is not rocket science. The instructions provided below will help you to regain access to your account in no time.
How to reset AT&T password
Go to the myAT&T login page.
Select Forgot password?
Enter your User ID and your Last name.
Click Continue.
Select security questions OR temporary password.
Follow the prompts.
Create a new password of your choice.
Tip: In the unfortunate event of a forgotten User ID, you can reset it from the login page too. Click Forgot User ID?, provide an email address, and select how you want to receive the ID. That's easy!
How my new AT&T password should look like?
People continue to use terrible passwords like password1 or 123456789 no matter how loud specialists talk about the importance of a secure password. According to findings, 35% of users still use weak passwords that can be cracked in the blink of an eye, so they are still considered the weakest link not without reason. Do not make the same mistake thousands of users make – your new AT&T password should be complex and thus difficult to crack or guess. We hope that you do not belong to those 59% of people who use the same password across multiple accounts too because it is no doubt an insecure practice. Finally, you should not keep your passwords written down on a sheet of paper because it may be lost and end up in bad people's hands. It is not much safer to store passwords in a separate folder on your PC too because they might be all stolen by cybercriminals if malicious software ever affects your computer and they get unlimited access to your system.
A secure password is not necessarily synonymous with a password that can be recalled easily when needed. As mentioned in the previous paragraph, a weak password is a bad password, so make sure your new AT&T password is strong. A secure password should contain a mix of all possible characters, including letters, numbers, and special symbols. Additionally, it cannot be short (the recommended length is no less than 14 characters in total) so that automated password-guessing tools used by cybercriminals could not decipher it. Last but not least, it should not contain any dictionary words because hacking tools try all words that can be found in an English dictionary first.
Times have changed – you do not need to waste your brain power on coming up with a password for your online account anymore. A password manager will generate a new AT&T password for you in a split second. This application will also keep all your passwords in one place so that you would not forget them ever again. Of course, they will be safe only if you use reliable software. Cyclonis Password Manager is a perfect example of a password manager that can be trusted fully. Using its Password Generator, you could automatically generate passwords for all your accounts and even measure their security. Also, you could keep your passwords in one place and finally ditch irritating sticky notes that can be lost or stolen easily. The cherry on top – it will enter login credentials on all saved websites automatically, meaning that you will no longer need to enter them yourself by hand. Isn't this music to your ears?
The closing words will be brief and straightforward: passwords are like keys that unlock many tiny doors to your personal accounts so make sure you treat them properly, improve their security, change them periodically, and, for God's sake, do not leave them hanging in random insecure places.