The Typical Craigslist Scams You Should Watch out For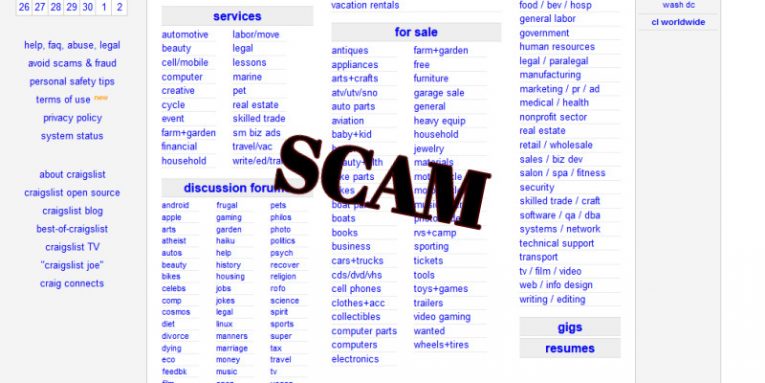 Do you use Craigslist? It is one of the most popular advertising sites in the US, and it is also used in Canada, Mexico, the United Kingdom, and other countries around the world. It is visited around 500 million times every single month, which is something that, unfortunately, attracts attention from virtual schemers too. It doesn't take any time or even any money to post an ad. All one needs to do is visit craigslist.org, click post to classifieds, choose the type of the ad, enter some details, and then send it into the universe. This is one of the ways for schemers to lure in victims, but that is not the only kind of Craigslist scam there is. In this post, some of the most common scams that Craigslist users face are discussed. Are you one of these users? If you are, you really should continue reading.
Looking for a job
If you are looking for a serious job that would land you a career you so desperately want, it is unlikely that you will use Craigslist because that is not a place where serious companies post vacancies. In this situation, you want to use linkedin.com, indeed.com, careerbuilder.com, linkup.com, and similar websites. On the other hand, if you are looking for a one-time opportunity to get quick cash, Craigslist might seem like the right source. If that is how you look for job opportunities too, you need to be very cautious about how you get paid. Depending on the jobs you take on, your "employer" could disappear as soon as the job is done, or they could trick you into using false checks that bounce as soon as you try to cash them. The rule of thumb here is that if you do not want to be scammed, it is best to accept nothing but cash if you are dealing with a one-time-job situation (e.g., babysitting, helping with a move, etc.).
Schemers love cashier's checks
A cashier's check is a check that has a guarantee from the bank, as it is taken directly from the bank. The person taking out the check gives money to the bank, and then the check is signed by the cashier of the bank. In most cases, cashier's checks are used to carry out transactions between parties who don't know each other because they are considered to be more secure. Therefore, it is very likely that many Craigslist users deal with these kinds of checks. Unfortunately, fraud exists, and whether you are being paid for a job, or you are being paid for something you are selling, you could be scammed. One of the most common Craigslist scams related to cashier's checks is when the scammer gives a check with a sum that is too big. So, for example, you are selling a couch for $900, and a cashier's check you receive is for $1000. The scammer then expects you to give $100 back, and you end up losing both a couch and $100 because the cashier's check is fake to begin with. If you find yourself in a situation like this, wait for the check to clear.
What are the signs that the cashier's check might be fake? If the check doesn't have a perforated edge, logo of the bank, or looks low-quality, and if the numbers (check and routing) do not match, you are being scammed. Jon Bottarini recounts his encounter with this kind of a Craigslist scam pretty well.
Got a ticket to sell
We've all been in a situation where we buy an expensive ticket and then end up not being able to make it to the concert. What then? Some count their losses and try to forget about it all. Others try to resell. There are plenty of websites (e.g., ticketswap.com) that offer the service, but most people still use Craigslist to resell their tickets. If you are interested in doing that as well, you need to be cautious about a few specific things. First and foremost, be careful when accepting cashier's checks. We've already covered that. Second, know what you are looking for. If you have no idea what kind of a seating plan the venue has, or how the tickets look like, you can be scammed in a jiffy. Study the venue's seating plan and research how the tickets themselves look. While schemers are usually very smart, they prey on gullible and careless victims who aren't doing their own homework. Third, check if the gig is still on. Some Craigslist scammers try to resell tickets to concerts and events that have been canceled already! Finally, do not buy last-minute tickets because you are bound to be less cautious if you are pressed by time. This is how a Reddit user who goes by the alias FFFrank was scammed into paying $300 just one hour before the show.
Beware of Craigslist phishing email scams
You will find many articles about phishing scams on this blog because they provide one of the most lucrative models for successful scams. Schemers behind these scams are not trying to trick you into spending money on fake tickets or products. Instead, their goal is to trick you into thinking that you are interacting with Craigslist. So, for example, they might create phishing emails to trick you into disclosing your password, name, phone number, and even credit card information. It is not always easy to spot scams, but there are things to beware of. For one, NEVER click on links and NEVER open attachments that are sent to you via email unless you are 100% sure that they are safe. Furthermore, ALWAYS double-check the address of the sender because slight modifications could be used to trick you into thinking that the email was sent by Craigslist. The company presents a few examples of the phishing emails that all users need to be cautious about. If you believe that you might have been scammed, the first thing you should do is change your password, and we strongly encourage you to employ a password manager that will automatically generate an impenetrable password for you.
N.B. Fake Craigslist websites exist too. Remember that the official website is http://www.craigslist.org/, and if you ever end up on a website that only looks identical to it, leave it immediately. If you do not want to become a victim of Craigslist scammers, you also need to be cautious about how you use Craigslist mobile apps.
Too good to be true - Not worth it!
It is usually enough to follow common sense to avoid scams. If you encounter too-good-to-be-true offers, or if sellers/buyers/advertisement holders on Craigslist appear to be unreliable, taking risks is not worth it. Millions of people use the platform successfully and safely every day, and there is no reason why you cannot do it too. It all comes down to how you do it. So, good luck!