Top 7 Holiday Online Shopping Tips To Help You Stay Safe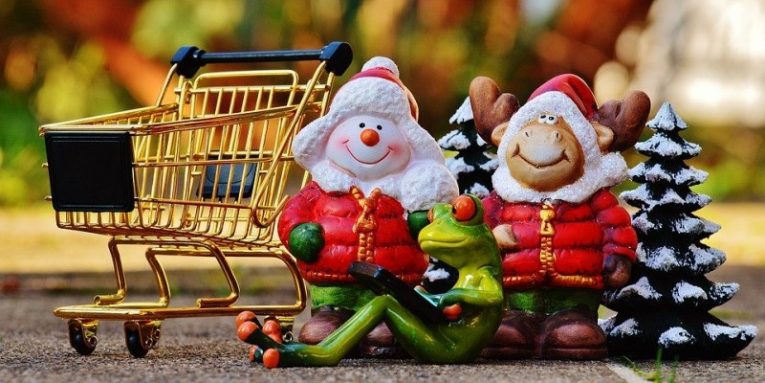 The holiday season is coming whether you like it or not. The Christmas fever is the real deal that will soon hit shops and shoppers. Usually, it starts with Black Friday (the fourth Thursday of November) and Cyber Monday (the Monday after Thanksgiving). While winter holidays are supposed to be jolly and bring only positive emotions, fighting the crowds in search of perfect gifts for the loved ones may kill the festive mood immediately. Brick-and-mortar stores might become your worst nightmare ever during the holiday season when thousands of people flood malls and department stores. Thank God, it is possible to avoid the holiday rush by simply doing the Christmas shopping online. Of course, your security must still be your top priority whatever the season is.
It is no doubt easier and more convenient to buy gifts from online stores, especially when so many people visit physical stores during the holiday season and, as a consequence, there is a possibility that items you have been planning to purchase are out of stock. There is probably no need to say that online shopping can be a great time saver as well since people do not even need to step out of their homes or offices to buy Christmas gifts. Online shopping is no doubt a lifesaver, so it is not surprising that these days more and more people switch to online stores and visit department stores only on rare occasions. It is expected that e-commerce holiday season sales will reach 123.4 billion U.S dollars in 2018. Not bad at all.
Some users still choose physical stores over online shopping because they are simply not sure whether it is safe to share credit card information online. To be honest, online shopping can be both a blessing and a curse. It is no doubt a more convenient way to do shopping, but people should beware of various dangers that lie in wait for gullible and careless shoppers. We do not try to say here that you should ditch online shopping and return to purchasing items from local stores. Instead, we seek to encourage you to pay more attention to your online security and privacy. The provided security tips for Christmas online shopping (see below) will help you to ensure that you are safe while doing shopping online.
The top 7 Christmas online shopping security tips
Make sure you shop from the secure website
Before you enter your credit card details and complete the purchase, make sure the website is fully reliable. The easiest way to do that is to check the beginning of the URL – it has to start with https:// and, on top of that, you must see a padlock icon next to your web browser's URL bar. In some cases, you might even notice a sign of a stronger level of security called Extended Validation SSL. In this case, the company's name is shown in green next to the address bar. All these signs show that the provided data is sent securely (it is encrypted first) and thus cannot be intercepted by hackers sniffing network traffic. Always make sure that the website can be trusted fully before entering credit card/bank account information or other sensitive information. It is also advisable to make purchases using credit cards rather than debit cards since credit cards offer a safer way to shop online. For example, credit cards, unlike some debit cards, have spending limits. You can also make use of a virtual credit card instead of your normal credit card to make your online shopping even more secure.
Never do online shopping via a questionable linkCybercriminals might send you various shopping recommendations, offers, and deals together with malicious links that are made to look exactly like the original ones via email, social media sites, and instant messaging services. Even though security specialists talk loud about phishing tactics used by cybercriminals these days, a bunch of users still fall for phishing scams because these fake links are very convincing. Unfortunately, instead of being taken, for example, to eBay or Amazon, users get redirected to fake websites after clicking on the malicious link. They usually find out that they have purchased an item from a fake website only when they do not receive it or notice unauthorized transactions on their bank statements. Do not fall victim to the scam – instead of clicking on links received via email or messenger, open your web browser and find the retailer's webpage using your search provider. Keep in mind that websites that contain tons of grammatical mistakes, do not provide any contact details, and have odd domain names are never trustworthy.
Set secure passwords for your online shopping accountsMost online shops require creating an account before the first purchase. To do so, the person has to provide his/her address, name and surname, telephone number, and some payment information. The website then asks to set a password for the account so that the user could log in and conveniently purchase items the next time or simply check the status of the most recent order. Make sure the password you set is secure so that hackers could not crack it and then steal personal information from you. In the worst-case scenario, they might even make unauthorized purchases behind your back after gaining access to your account. Coming up with a secure password might be quite a challenge, but you can easily generate a secure password for your account automatically with Cyclonis Password Manager, a trusted FREE password keeper.
Buy from well-known companiesGenerally, big companies (e.g. Amazon) have more secure online shopping websites. They know well that one of the main reasons customers choose them over other companies is nothing else bust trust. These companies are aware of the fact that they will not only lose profit but also consumer confidence in the event of a data breach, so they take serious security measures to protect users' virtual security and privacy and, at the same time, make the customers' online shopping experience as pleasurable as possible. If you have to buy an item from an unfamiliar website or a smaller retailer you have found using Google, you should do your research first. If there is no information about the company on the web or reviews you have come across are mostly negative, you should definitely refrain yourself from making a purchase from it. Providing any payment information might result in serious problems, including unauthorized transactions and even identity theft.
Use PayPal to purchase items from unknown websitesNo doubt it is risky to provide credit card details when purchasing items from unfamiliar websites, but if you are still planning to take the risk, you should consider using PayPal or another reliable payment system instead of directly providing your credit card information. The website you want to purchase an item from might not be, technically, malicious, but it might lack basic security features and thus might get hacked one day. Consequently, your privacy might be compromised in such an event even if you have bought an item from that website once.
Never use public Wi-Fi to do shopping onlineShopping using public Wi-Fi, especially if it is completely unsecured, is one of the biggest mistakes online shoppers make. You may be tempted to do some online shopping when you are in a coffee shop, an airport, or another public place, but it is far from being a secure practice even if this may save you some time because hackers monitor unsecured networks regularly. In such circumstances, hackers might obtain your credit card information the second you enter it to complete your purchase. As a consequence, it is highly recommended that you do your online shopping using your private Wi-Fi – it is encrypted and cannot be hacked so easily if a strong password is set. If you have no other choice but to use public Wi-Fi, you should at least use a VPN (Virtual Private Network). All data sent from the device you use will be encrypted, meaning that sensitive information like your credit card details will be hidden from prying eyes.
Always use common senseFinally, and most importantly, never lose your common sense. Yes, we all love to save some money at online stores, but cybercriminals know that well too, so if you are ever presented with online offers that seem to be too good to be true, you should avoid them at all costs. You probably receive hundreds of offers via email and see products advertised on Facebook at this time of the year. Most likely, the bigger part of them are sent to you by companies that can be trusted. However, if you are offered to buy, let's say, an electric bike for less than 50 USD, it is very likely that the offer you have received is just a cybercriminals' attempt to trick you into paying for the item you will never get. They might set up fake offers and fraudulent websites with the intention of stealing personal information as well.
The number of cyber attacks against online shoppers considerably increases during the holiday season because hackers know well that people are in a hurry to purchase Christmas presents and many of them would fall for the best deals they manage to find. Do not let hackers ruin your holiday season – take security tips on Christmas online shopping provided above seriously.