How to Change Your Steam Account's Password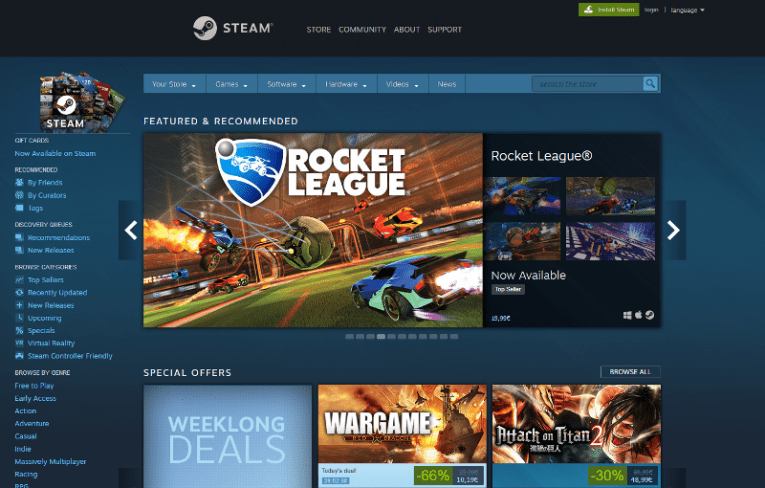 The word Steam probably does not tell you much if you are not a gamer; however, for gamers, it is their tiny paradise with thousands of video games in a variety of genres. Officially, Steam was developed by Valve Corporation as a platform for distributing video games, but we would not make a mistake by saying that it has evolved into something bigger during 14 years of activity.
Can you tell me more about Steam? Yes, sure!
Gamers not only buy games from the Steam's store, but they can also communicate with each other, engage in discussions, and even sell/buy gaming-related items. In other words, Steam provides community features as well, which distinguishes it from other gaming clients. This is one of the main reasons gamers choose it over similar platforms too. According to statistics available at Statista.com, while Steam had only 6 million active users back in November 2012, the total number of users hit 18.5 million at the beginning of 2018. Since it appears at the top of the best digital distribution services available on the market, it would be a huge surprise if Steam's popularity declined soon.
Useful and fun, but not perfect
Even though Steam is the first gamers' choice, it is not flawless, to say the least. A vulnerability that has been present in Steam for at least 10 years (!) has been recently discovered by a security researcher Tom Court. The specialist described the security flaw as "simple" and "straightforward to exploit", so, theoretically, anyone using the service could have had it leveraged against them. A thorough analysis of the bug has already been performed, and now specialists can say with confidence that the vulnerability could have been used to take full control over victims' machines. Luckily, the patch has been released by Valve to fix the problem. Update your client ASAP (if you have not done that yet) to get the exploit patched. Additionally, if we were you, we would change the password of Steam's client as well.
There is even more evidence that Steam is not perfect and experiences security-related problems from time to time. A loophole that allowed cybercriminals to steal Steam accounts by simply requesting a password reset was detected back in 2015. Usually, it is not that easy to hijack accounts (if they are protected by secure passwords); however, it was a piece of cake back then. It is because hackers only needed the account's name and the associated email address to take over the entire account. With these details in their hands, they could change the password and set a new one of their choice. Generally speaking, no security code was required. This security issue was fixed by Valve in a week's time, but if you have not used your Steam account since then, it would be a good idea to change Steam password right away.
What can I do to strengthen my Steam account's security?
It is already the rule rather than the exception that users entrust their online security to online service providers. Unfortunately, they tend to forget one simple truth – these companies may let them down since they experience data breaches themselves. It does not mean that there is nothing ordinary users can do to strengthen the security of their online accounts. Setting a strong password is, without a doubt, a step towards a more secure future. Therefore, do not hesitate to change the password of Steam today to elevate its security to the next level.
Despite specialists' efforts to convince users that it is extremely important to set complex passwords on all online accounts, the mindset of "Who cares?" is still prevalent among them. They believe they could fix the security problem by simply changing passwords after the cyber attack takes place, but not everything is as simple as that. Imagine hackers taking over all your precious games and not giving them back. That would be a total disaster, right? Luckily, you can strengthen your Steam account's security by changing the password set to a more secure one. Some say that Steam accounts are unhackable, but we cannot confirm that it is true, so we highly recommend taking action before it is too late.
"What is a secure password?", you may ask. Well, first of all, we would describe it as a password that consists of no less than 14 characters. Second, a strong password must contain uppercase letters, lowercase letters, numbers, and symbols (if allowed). It might seem like a good idea to combine several dictionary words and then substitute some letters they contain with numbers, but do not waste your time on doing this because specialists say that such passwords can still be hacked quite easily. The same can be said about pet names, birthdays, addresses, and other personal information, so do not use any personal details that can be guessed by cybercriminals as your passwords. Experienced specialists say that you should generate a complex password automatically using a trusted password manager like Cyclonis Password Manager. Then, you could easily change Steam password to it. Just follow the step-by-step instructions provided below.
How do I change the Steam Account password?
If you know your password and can log into your account
Open Steam client and access Settings (go to Preferences on MAC).
Click Change Password…
Enter the existing password.
Enter the 5-character code sent to you via email.
Enter a new password.
Click Finish.
If you have forgotten your password/your account's password has been changed by cybercriminals
Access the password reset page.
Enter your account name, email address, OR your phone number.
Select the method of password reset.
Follow on-screen instructions.
Tip: If you cannot change Steam password for any reason, for example, you cannot access your email, contact Steam Support right away. Most likely, you will be asked to provide proof of ownership (e.g., payment information used on the account, products codes activated via Steam, Steam Wallet codes, etc.) to verify that the account belongs to you before you get the help you need.
What else can I do to prevent my account from being hacked?
Valve has three additional pieces of advice for security-minded Steam users. First, it is highly recommended not to share the steam account's password with anyone. Even though sharing is associated with caring, that is far from the truth when we talk about sharing passwords. Second, enter your account's password into login forms located on official Steam websites, such as steampowered.com and steamcommunity.com, only. The green highlight in the browser's URL bar indicates that the legitimate website has been opened. Last but not least, specialists want to encourage Steam users to enable Steam Guard two-factor authentication. It is an additional security level that can be turned on at any time to improve the account's security. Once the two-factor authentication is enabled, anyone trying to access your account will be asked to provide the "second factor," e.g. a unique code sent to the email address linked to the account next to ordinary credentials, i.e. password and login.
How do I set up Steam Guard Mobile Authenticator?
Android/iOS/Windows Phone
Download the Steam Guard Mobile Authenticator app from AppStore, Google Play, or Windows Store depending on the phone you use.
Install it on your device.
Log into your account.
Tap the icon in the top-left corner to open the app's menu.
Select Steam Guard.
Select Add Authenticator.
Provide your telephone number.
Enter the code sent to you via SMS.
Tap Submit.
Write down the recovery code.
Once the two-factor authentication is enabled, you will be presented with a unique code (it keeps changing).
The next time you log into your account, you will be asked to enter the code from the authenticator.
The bottom line is this: you must change Steam password ASAP (even if it seems to be quite a hassle) if you have noticed unusual activity and suspect that your account could have been compromised. Find the time to change the password if it is weak too. It is certainly easier to do that than recover from a cyber attack, believe us.