Did You Forget Your Paypal Password? How to Change It and Prevent It from Happening Again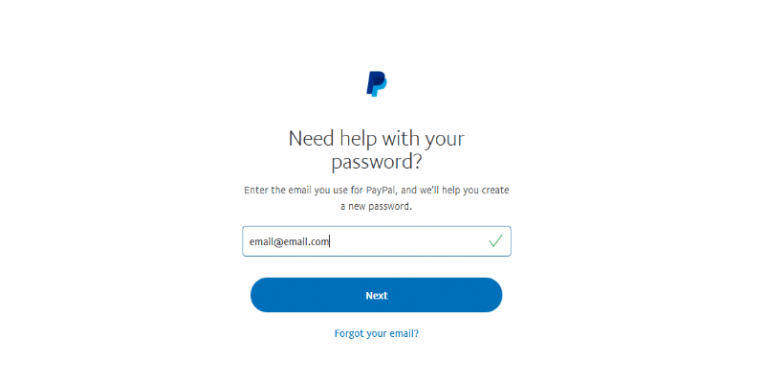 A forgotten password is no doubt one of the most annoying problems all users face at least once in a lifetime. According to one study, 21% of users forget their passwords after 2 weeks, whereas 25% forget a password at least once a day. Some will find these numbers shocking, but it is not a huge surprise for specialists who know well how hard it might be to recall a password, especially a complex one.
Passwords are considered an outdated authentication system
Partially, users experience password problems because the password system itself is still far from being flawless. Even the man who invented the password system in the early 1960s, Fernando Corbato, agrees that passwords are nothing but a nightmare in the present-day world. He said in an interview with The Wall Street Journal that "it's become kind of nightmare with the World Wide Web. I don't think anybody can possibly remember all the passwords that are issued or set up." Another reason password problems arise is that people have too many accounts in the contemporary world. According to Riskemy.com, the average user is registered to 90 accounts. Online payment systems, email providers, and online stores, to name only a few, all ask for a password. No doubt it is quite a challenge to remember them all.

Security experts agree that passwords users set for their accounts are usually obsolete, they can be forgotten easily, and it is not too difficult to crack them. Therefore, it is believed that the day when passwords will be replaced by biometric authentication, i.e. identifying people through certain aspects of their unique biological characteristics, is closer than first thought. If this becomes our reality, a forgotten password should not ruffle our feathers anymore.
Business suffers due to forgotten passwords as well
Users are not the only ones who suffer when a password is forgotten. Quite surprisingly, this has a negative impact on business as well, especially online stores. The main problem is that money goes unspent simply because users cannot remember their passwords and, as a consequence, find it impossible to access their accounts in order to confirm purchases. This can result in a multimillion-dollar loss for some retailers. Usually, a forgotten password can be reset with a few simple clicks, but this still takes time, so, in consequence, about a third of all online purchases are abandoned at checkout, the study has shown. According to specialists, if sites do not take action to solve this problem soon, they may, potentially, lose thousands of users.
People have too many accounts and forget passwords too often
No passwords are immune to being forgotten. You can easily forget both the online store's account password and your email account's password. Of course, some accounts are more valued than others. Money is no doubt one of the most sensitive topics, so a forgotten PayPal or another online payment system's password can bring a serious wave of panic. Do not freak out if you cannot recall your password and withdraw some money because there might be a way to fix the problem. As for the forgotten PayPal password, you can reset it in the blink of an eye if you know the email address associated with the account. Instructions provided below will enable you to change a forgotten PayPal password easier.
How to change a forgotten PayPal password
Access the Log In page.
Click Having trouble logging in?
Provide the email address associated with the PayPal account.
Click Next.
Select the password recovery method.
Click Next.
Choosing the recovery method
If you choose Have us call you, you will get a code you will have to provide to a customer support specialist over the phone.
If you choose Receive a text, you will have to enter the 6-digit code sent to you via the mobile device.
If you choose Receive an email, you will have to provide the 6-digit code sent to you via email. You may also be asked to confirm your card number.
If you choose Answer security questions, you will have to enter your answers. Additionally, you may be asked to confirm your card number.
If you are given the Confirm through Facebook Messenger option and choose it, click Send Code and then enter the 6-digit code sent to you via Messenger. Then, click Confirm and change your password.
How to change a forgotten PayPal password without an email address
You will be asked to provide the email address linked to your PayPal account to reset the forgotten password. It is no doubt a problem if you cannot remember it too, but, luckily, it does not mean that it cannot be solved. Follow step-by-step instructions provided below if you have forgotten the email address on top of the forgotten PayPal password.
Go to the Log In page.
Click Having trouble logging in?
Click Forgotten your email address?
Enter email addresses that you think may be associated with your PayPal account.
If any of the provided emails are recognized, PayPal will let you know which one it is.
Click Continue if you know your password OR follow above-provided instructions on how to change a forgotten PayPal password.
A secure password – a complex password
Passwords are often forgotten due to being too complex, but it does not mean that you should opt for a simple (and both weak) password instead. Setting a simple password might result in your account being hacked or compromised, and this surely sounds like the end of the world when we speak about an online payment system account. Companies face data breaches from time to time, and, unfortunately, ordinary users can do nothing to prevent this from happening. Of course, they still have a right to set desirable passwords for their accounts themselves, which means that accounts' security is highly dependent on the choices they make as well. Do not make a bad decision – set a complex password for your account. Yes, it may be quite a challenge to recall it when needed, but you will considerably reduce the chances of being hacked by choosing a complex password over a simple one.
So how does a secure password look like? Different service providers provide slightly different recommendations for users, but they all agree that passwords users set must be long enough. For example, PayPal recommends setting a password that is 8-20 characters long and includes one number or symbol. In our opinion, it is always better to go up in characters and include a mix of lower/upper case letters, numbers, and symbols to make cracking it an enormous challenge. Coming up with a secure password is never easy, and you will never know whether it is strong enough, so do not act like a hero here – let an automated password generator help you.
A short-term memory? Not a problem!
81% of people still reuse passwords across multiple accounts, the survey has revealed. Once again, they do so because they fear that it will be impossible to remember them when needed. As the saying goes, "time is money," so it is not a surprise that the majority of users find spending their valuable time on resetting passwords a pure nightmare. Instead, they opt for weak passwords like 123456, qwerty, or password1 and choose to reuse them across several accounts thus exposing themselves to danger. A great number of people are well aware that this is a dangerous practice. We will say this again – a secure password is a must – but do not worry, we will not try to persuade you into taking some brain-boosting exercises so that it would be easier to remember strong passwords set for all accounts.
Instead, we recommend that you entrust all your new complex passwords to a trustworthy password manager. By doing so, you will prevent issues similar to the forgotten PayPal password problem from arising ever again. It may seem that keeping a crib sheet in an under-desk drawer is a relatively safe way to store passwords, but we want to emphasize that it is not. It may be a piece of cake to steal it from you. The same can be said about keeping passwords in an unprotected file on your computer.
The conclusion will be brief and tight this time. New authentication systems are just around the corner, but while the password system is still used by the majority of service providers, we cannot ignore its importance. Your online security heavily relies on the choices you make. Make sure you have nothing to regret.