'D3DCOMPILER_47.dll is missing from your computer' Error
Users typically see the 'D3DCOMPILER_47.dll is missing from your computer' Error when they are trying to launch a piece of software, which utilizes their graphics card heavily – media editing tools, games, or media players. Unfortunately, if you encounter this error, you will be unable to use the application you were trying to launch – it will refuse to start. Running it again will not change things – the error will show up again and again.
What is D3DCOMPILER_47.dll?
This file is part of Microsoft DirectX. Simply put, this collection of Application Programming Interfaces (APIs) is responsible for rendering particular graphics elements – as long as the app uses DirectX. If there are any corrupted files or issues with your installation of Microsoft DirectX, you might end up seeing the 'D3DCOMPILER_47.dll is missing from your computer' Error.
Fix the 'D3DCOMPILER_47.dll is missing from your computer' Error by Updating DirectX
The first thing to do is to update/reinstall Microsoft DirectX. In most cases, this should be enough to resolve the issue completely. Head to the Microsoft DirectX download page to fetch the latest copy of DirectX compatible with your operating system.
Update Your Graphics Drivers
If reinstalling or updating DirectX does not help solve the issue, then you should check the next component that your graphics card relies on – its drivers. Head to the site of the manufacturer of your graphics card and download the latest available driver. NVidia users can refer to our guide on How to Fix NVidia Display Driver Issues.
Re-register D3DCOMPILER_47.dll
There is a chance that Windows might be unable to load the DLL file because it is not properly registered. Thankfully, there is a quick fix for this:
Go to Start Menu -> Command Prompt.
Enter the command regsrv32 /u D3DCompiler_47.dll.
Enter the command regsrv32 /I D3DCompiler_47.dll.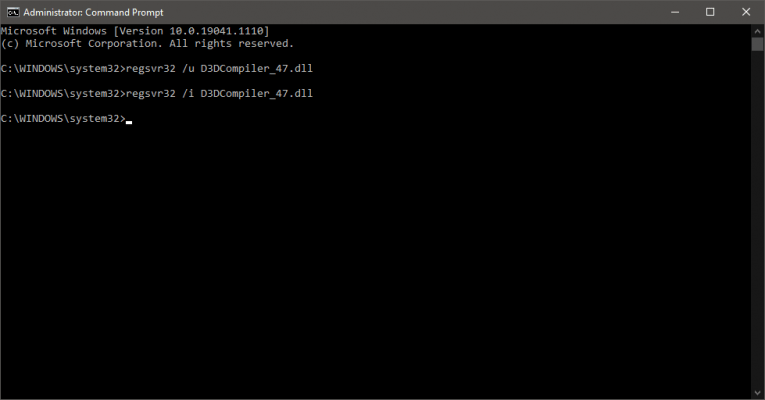 Apply Windows Updates
The next thing to try is updating any pending Windows Updates – this is likely to resolve issues with your operating system or the DirectX component. To do it, head to Start Menu -> Windows Update and use the Check for Updates button.
Reinstall the Software Spawning the Issue
If you only encounter this error while using specific software, then it might be an issue with its installation. We advise you to remove it through the Control Panel – How to Uninstall Apps on Windows. After this, install a fresh copy.