Facebook Users Are Tricked Into Disclosing Personal Information for a Bogus TV Giveaway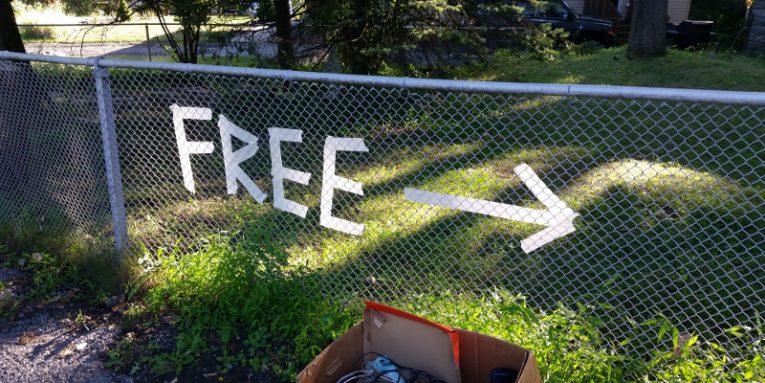 What would an international retail chain do if it has a few damaged TVs lying around and needs to clear up some space in its warehouse? If you think that it would give them away for free through a Facebook giveaway, you might be the perfect victim to a scam that was recently set into motion.
No, Tesco isn't giving away damaged TVs for free
The scheme was aimed primarily at UK users, and it was about as simple as it gets. The scammers registered a Facebook page that impersonates British retail chain Tesco, and, most likely with the help of bots and fake accounts, they collected about 20 thousand likes.
Then, they found some photos of brand new TVs stacked in a warehouse, and they posted them on Facebook, along with a message that sounds very tempting indeed. According to it, the TVs on the photos are slightly damaged but are in perfect working order. Tesco can't sell them, and they're about to be "binned." Unless, of course, Facebook users are willing to comment on the post and share it with their friends. If they do, they're in with a chance to win one of the TVs.
It was an appealing offer, and sure enough, some people fell for it. Later, they received a direct message from the fake Tesco page telling them that they've won a brand new, albeit slightly damaged, TV and instructing them to click a link in order to claim the prize. The link led them to a malicious page that asked them for their names, addresses, phone numbers, and bank account details.
How easy was it to spot the scam?
Although it's a simple scam, the crooks have put a certain amount of thought into it. Victims are addressed by name in the direct message that informs them about the bogus prize, for example, and, as we mentioned already, the page had tens of thousands of fans when it was still active.
Even so, there were a couple of tell-tale signs that can reveal the scam pretty easily. The bogus Facebook page was called "Tesco UK," while the retail chain's profile is titled just "Tesco." It also has about 2 million likes, and it's adorned with a blue tick that confirms its legitimacy.
The bogus page has now been removed
Fortunately, the fake Tesco page has been reported and taken down. The post has been deleted, and the scam has been covered by mainstream media outlets like Reuters. People who read the reports on this scam have most likely realized how naïve it is to think that Tesco might be giving away damaged TVs to Facebook users.
Hopefully, this is indeed the case because although this particular page is now gone, chances are, there will be many like it in the future. In fact, if you do some research, you'll see that this is far from the first operation of this kind. The screenshot below, for example, shows a similar fake giveaway from April. The non-existent prize was smaller (a £50 voucher), but it still managed to trick more than 500 users if the figures under the post are to be believed.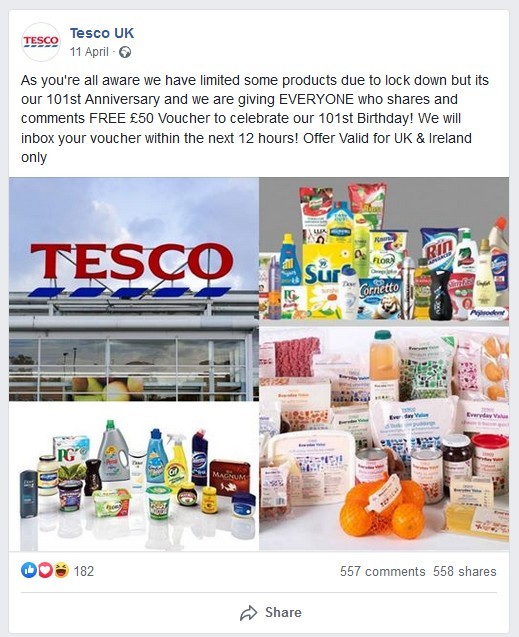 The temptation of getting something in exchange for pressing Like or clicking the Share button is clearly huge, and by forcing users to share the post with their friends, the scammers can cast an even wider net. Try to be a bit more skeptical towards this type of giveaways, and if you do decide to take part in one, make sure it's organized by a legitimate organization that isn't after your personal data.